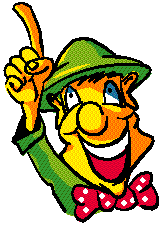 Mr. Know - It - All




Here at the Murphy NexusTM we felt the need to provide a forum so that our members could have all their impossible questions answered, a final arbiter for all disputes large and small, our own gnomon of fact. Mr. Know-it-all (not his real name) is a tireless researcher in the field of science, and a frequent contributor to the Journal of Scientific Endeavor. He has a half a dozen degrees in various fields of study and is a member in good standing of the select IPS (International Polymath Society). So, without any more embarrassing puffery, we give you the good Mister:


Third Installment: Posted 16 May 1999

Second Installment: Posted 6 May 1998

First Installment: Posted 20 October 1997


If you have any questions you would like to ask him, please email him at



MrKnowitall@bigbrain.org



and mention that you want to see the answer published in The Murphy NexusTM.



Return to The Murphy Nexus
TM
---

This page last updated 16 May 1999

---
© Contents copyright Kevin Murphy 1999. All rights reserved.