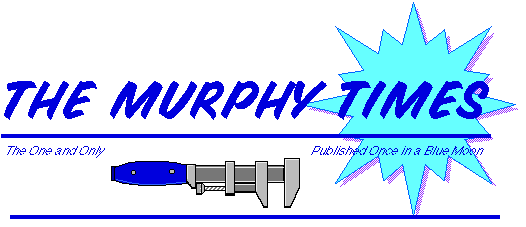 ALWAYS AT OUR BEST
Welcome to the 10/5/97 edition of the Online Murphy TimesTM where we chronicle the continuing adventures of that intrepid Murphy Family© as they climb every mountain, and ford every stream.
"Only mediocre writers are always at their best" -- W. Somerset Maugham










Here at the Online Murphy TimesTM we are announcing big big big changes. First off, the format of this, the OMT, is changing to enhance the reader's experience. The fact that I'm hoping that it is easier on the staff here at the OMT is completely immaterial. We will feature a series of articles with a table of contents. And, yes, there's more. Lots more. We are expanding the site. That's right, since nobody actually reads this stuff, we've decided to make more. The Online Murphy TimesTM will only be one part of a larger media conglomerate. Have Mr. Wizard set the Wayback Machine to full throttle and follow this link:


funmurphys.com




TABLE OF CONTENTS
Back to the OMT Index

OUR STANDARD PUBLIC SERVICE ANNOUNCEMENTS:

As always, please E-Mail us here at kevinmurfy@aol.com. Remember, all such E-Mail will become the sole property of the Murphy Family© and will not be returned, even if you say "please." We used to claim that we would answer all email, but since we got so little we decided that maybe the threat of us sending more of this junk scared people off. So now we say: maybe we will, maybe we won't. (You have to keep some of the mystery in a relationship, at least that's what Denise always tells me as she closes the bathroom door.)

AND WITHOUT FURTHER ADO, THE ARTICLES:


Our Slice of Paradise
The Murphy Family© spent their summer vacation 1997 in Gulf Shores, Alabama. A great time was had by all. We stayed in a resort that was pre-disastered by hurricane Danny. Sadly, it wasn't post-disastered by management so we were able to experience that just-been-hit-by-a-hurricane feeling a month after the actual event. Some claim that children don't like change, but mine loved staying in a hotel -- swimming in a different pool than our subdivision, watching cable TV, even sleeping in a different bed (if only because it gave them something to fight over.) They were surprised when we left the hotel in Granada, Mississippi and spent another day on the road. Hey, we liked that hotel, why are we going somewhere else? We were all happy to pull into the Plantation (oddly enough, I didn't see one cotton plant) and get out of the van. First thing after unloading (I never knew how fun a luggage cart could be until I saw the kids play, I mean help me unload, with one) was to go down to the beach (well, second thing) and see why we came. Later that night we took a stroll around the deserted grounds of the Plantation. We felt like we were in one of those "last people alive on a desert island after some big disaster" made for TV movies they used to make for TV. I understood then why they were offering a 20% discount to stay - not out of the goodness of the their hearts, but because so few people were coming.
The kids loved the beach. We hunted for sea shells, built sand casltes (larger, more elaborate, closer to the ocean as the days wore on), swam in the ocean. At dusk we watched (some of us in terror) the dragonflies swarm by the millions (and that's a conservative estimate) around the building. One afternoon Erin and Denise even saw dolphins frolicking offshore. Kyle and I preferred the beach to the swimming pools, while Erin and Denise were more evenly split. There were seven pools at the resort, and they swam in all of them (even the ones with crabs.) One of the first days there my back was badly sunburned (and in the interest of marital harmony that's all I'll say about that) so the rest of the trip I looked like a dork and wore a t-shirt while swimming. The best thing about our resort (better than the beach, the lack of crowds, and the many pools) was that we had two bedrooms.
Sadly, like all good things, it came to an end and we were forced to come home. Kyle was bewildered and kept asking "Where us going?" (Despite my best efforts, he still thinks "we" is what you say while going down a big hill.) Our replies of "home" and "our house" were met with "the condo?" After repeating the "the big house" a couple of times, comprehension seemed to dawn, and he would repeat to himself "us going to the big house." Thankfully, no one overheard this and asked if we would be visitors or inmates when we got there.
Before I sign off, let me give out one last tip -- moonlit strolls on the beach are fun, moonless strolls are not. Especially when not wearing a pair of sturdy boots. You can hear the crabs scuffling all around you, and catch momentary glimpses of them in the water. As you stumble around , admiring the stars, wondering if you'll be able to find the boardwalk over the dunes leading back to the hotel, you recall the condition of the beach in the morning: strewn with crab parts -- mainly pincers, with the odd carapice thrown in, the occasional whole dead crab -- mute witness to the titanic crab battles that are waged up and down the beach every night. What for us is a fun filled paradise is for a crab a grim struggle with death played out night after night. Well, I better throw in another tip before you call Dr. Kevorkian -- the Key Lime Pie is pretty darn good at the Original Oyster House.
Return me to the Table of Contents, please.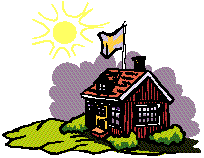 A Learning Experience
The first week of September was filled with importance for The Murphy Family© as the Fruit of the Murphy Loins started 1st grade and pre-school this year. While riding the bus was old news for Erin, full day school (including eating lunch at school) was brand new. The most excitement generated by far, however, was during the Meet The Teacher extravaganza held late on the Friday afternoon before school started (said to minimize the complaints and demands for switching.) Erin was hoping for Mrs. Goode (who wouldn't?), but no matter how many times the lists for first grade were examind, Erin's name was not on them. What a crushing blow! Not only was she not in Mrs. Goode's class, she wasn't in anyone's class! Thankfully, another 1st grade teacher quickly discovered the problem: Erin was assigned to Mrs. Goode's class (hooray!), but her name had been stricken from the list because another Erin Murphy (and here I thought we were all unique individuals) had moved away and Mrs. Good confused the two. A calmer look through the list showed that Laura, Erin's Best Friend - School (she also has a Best Friend - Summer, Kirsten) was also in her class (double hooray!!).
Kyle's school experience, while more novel for him, has been less exciting. He's going to Erin's old pre-school, which by all accounts he enjoys, despite a lack of heart pounding excitement at the start and having no best friends to see again. In fact, both Fruit of the Murphy Loins really like the whole school experience, and up to this point have done well. As a progenitor, one can only hope this continues. Still, many a ship of wistful hope has been sunk by the shoals of teenage-hood (is that redundant?), and the battle cry "my child will be different" brings a knowing smile to the lips of this progenitor when uttered by other progenitors.
Return me to the Table of Contents, please.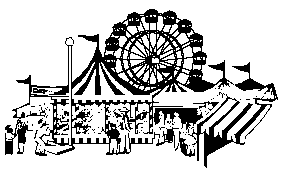 A Better Than Fair Fair
The Murphy Family© had the distinct pleasure of going to the Saint Louis County Fair this labor day weekend. We attended first thing the last day of the fair and what I really have to admire most, besides the sheer size, the ourstanding airshow, and the high quality rides, was the crowd and traffic control. I was worried about being caught in a massive traffic jam, but the police were out in force and had set up plenty of traffic control (I wish I had the orange cone concession that day) and both getting in and out went smoothly, very smoothly considering that there was only 1 entrance and exit to the fairgrounds. My only disappointment was the the Fruit of the Murphy Loins hated the airshow so much they left during the first plane's routine. Still, with time, they'll come around to my view and stand, mouth agape, transfixed and feeling like a little kid again. I just hope they don't have to get as old as me to experience the feeling.
Return me to the Table of Contents, please.


My Year in Tennessee
I spent a year in Tennessee this September. I went there to work on a wind tunnel test at Arnold Engineering Development Center (AEDC), which is unique if only because it is an airforce base without any airplanes. My support of the test was to be two weeks (the final two weeks), but those weeks grew, like the grinch's heart, into four weeks, and would have grown even more if a manager on another program I also work on hadn't called up and demanded that I return to do a job for him. I could kiss him on the lips, but rest assured I won't. If you wonder I why I was so happy to get back, sit back and let me paint you the picture. Day after day the same, sitting in the quiet control room making data plots, and rare trips to the test section to watch someone else work on our model. Four weeks of having lunch and dinner with the same person, living in a town of 8,000. The enjoyable part was talking to my co-workers, both those who work at the tunnel and those who came with me. I have gotten better at at least one thing as I've gotten older -- that's being less shy and more outgoing. Now I just have to work on being better looking and I'll really make Denise happier.
Return me to the Table of Contents, please.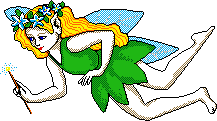 At Long Last Tooth Fairy
&
A Lesson Learned
The battle cry "my tooth is loose" accompanied by a wiggle of the dental irruptions has long rung out from Erin once she noticed that most of her peers had already lost a tooth (or two). I suppose parenthood has fully arrived when you can identify with an episode of Arthur (for those without young children, Arthur is a show seen on the local PBS station.) Still, while I was away on my boondoggle of boondoggles (see My Year in Tennessee), Erin lost a tooth in Sunday School. Apparently obsessed with providing a clean tooth for the Tooth Fairy (an obsession with cleanliness that neither my wife or I share), Erin washed and rinsed it in the sink until, even after a warning from Denise, she washed it right down the drain. Without my presence to provide instant plumbing work required to recover the tooth, and faced with a hysterical daughter, my wife thought fast on her feet (one of her many endearing traits is her ability to think fast on her feet -- flat on her back, too, but that's another story) and wrote a letter of expanation to the Tooth Fairy, which was tucked under Erin's pillow that night in lieu of the missing tooth. Apparently, the Tooth Fairy bought it and a crisp dollar bill awaited Erin in the morning. One can only hope the time it took the good fairy to read the note didn't throw her off her time table for the night.
The following day when Denise returned from work (yes, she's back to part-time temporary again), Erin told her that she had lost her other loose tooth (Erin is watched by a neighbor kid after school until Denise returns for all you busybodies worried about Erin being Home Alone.) When Denise asked to see the tooth, Erin told her it was upstairs under her pillow already. I suppose Erin didn't want to take any risks of straining the Tooth Fairy's credulity by leaving a second note in as many nights. It's always gratifying to see learning exhibited by one placed in your care.
Return me to the Table of Contents, please.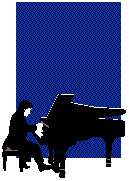 Paducah Interlude (in C major)
1st prize, a week in Paducah. 2nd Prize, two weeks in Paducah
We spent a weekend in Paducah because it's halfway between St. Louis and Manchester, TN where I was working in September. I was worred that there wouldn't be enought to do and the Fruit of the Murphy Loins would be bored and cranky. Well, not a problem. I had forgotten that the Fruit are happy watching cartoons in their PJs while making tents and whatnot out of blankets and such. I also made sure to stay at a motel with an indoor pool. But I have to say, and not because of any under the table payments or anything, although it would be nice to entertain such offers even if, and I am saying if, even if I turned them down, but I have to say, getting back to the point, that I liked Paducah. It has a nice downtown on the river and a big mall on the interstate. The only fly in the ointment was a vast conspiracy (possibly organized by the chamber of commerce or similar organization) of its drivers to make the town seem larger by driving slowly. I mean 5 miles an hour or more under the speed limit. I mean ooze through intersections on a green arrow. I mean going 5 mph in a park with a posted 15 mph limit (I passed people twice in the park because I just couldn't take it). The town also has the quirk of using full names when things (streets, parks) are named after someone, e.g. it's Alben Barkley Parkway, not just Barkley Parkway. The highpoint of the trip had to be when at their great city park (Bob, not Robert, Noble Park), Kyle was pushed into a fountain and soaked head to toe. I was away getting lunch and Denise was stuck with nothing to help him with as Kyle's stuff was in the van still parked at the hotel. Hunger won out as Kyle wanted to eat before I was dispatched to bring a change of clothes. We then got to go to a laundrymat (another first for the Fruit of the Murphy Loins) since we had only one pair of shoes for Kyle. I don't know why I worried about the Fruit getting bored, they had almost as much fun at the laundrymat playing with each other than they did at the park, which is as good a reason as I know for having two kids, and then not getting carried away and having more.
Return me to the Table of Contents, please.

The Swarm
&
All's Well That Ends Well
This past Sunday at church Kyle stepped on a yellowjacket nest and was stung 8-10 times. The kids have been playing outside after church all summer without incident until Kyle's fateful footfall. Denise ran out to help him but was forced to bring him inside as more bees would take the place of the ones she shooed off. One other child was stung once, and Denise was stung on a knuckle for her efforts to save Kyle. While trying to take stock of where all Kyle was stung, I found a bee caught in his hair along with a sting on his scalp. A scary time for all of us. We knew Kyle wasn't having trouble breathing as his screaming was loud and persistent. The effects of Benedryl, both topical and internal, and the Little Mermaid were soothing and soon after he was home he was quiet and apparently OK. Over lunch we asked him if he still wanted to go apple picking, and he said yes, which we felt meant he had made a full recovery.
Apple picking was introduced to us last year by our friends the Hayworths and is on its way to becoming a Murphy Family Tradition. We enjoy the experience more than the apples as we picked about 15 pounds of apples versus the 100 pounds the Hayworths picked this year. We go to the Eckert's in Belleville because it has a nice playground and what looks like a carnival midway of apple delights and is considered "more commercial" than other locations. Riding the wagon is in many ways the high point of the trip, along with eating an apple right there in the field where you picked it. We are dilettantes who consume our apples in the week(s) following the trip; the Hayworths are professionals who can them (put up) and consume theirs over the course of the next year. Dawn (that's Mrs. Hayworth to you, bub) even has a tool that simultaineously cores, peels, and slices the apple. Any job is fun when you have the right tool.


Return me to the Table of Contents, please.



This page is the sole property of the Murphy Family and any unauthorized use of this page will be cause for much regret!

Contents copyright Kevin Murphy 1997. All rights reserved.